Bujang Ganong and the Huaca Cuniraya
-A fusion of two dance worlds-
When wandering through the villages of Jawa in search of local dances and art expressions like Jathilan or Turangga Seto, Barongan, Angguk, Dolalak or Lengger, far from the city's grand stages, I came to be familiar with performances of East Jawa, in particular one that immediately caught my attention: the Topeng (Mask) Dance of Bujang Ganong that is a character part of the episodes of the East Jawa's dramas. Its hairy-fierce mask combined with the powerful, energetic and lively movements and music made me feel watching a supernatural dance. I totally learned this dance by "osmosis" for which I mean a learning process that can be acquired by only watching and being attentive and receptive to the dance in the proper environment, as if your 'soul' is a receptacle of 'spirits'. What counts is the impression. This is not the only dance I have learned by 'osmosis', without any teacher or instruction.
Back in Ecuador in 2018, an idea started to flow in my head: how to put on stage a dance with an Andean and an Indonesian masked characters by creating an attractive
story merging both traditions and mythologies. I must mention I took from Indonesia several masks (some unfinished) made by the mask masker artist Iroel Mutaqin (Magelang, Central Jawa), as Bujang Ganong, Barongan, Klana Sewandono, etc., however, I could not bring the costumes. The first step was finishing and getting the Bujang Ganong's mask ready, installing the hair (horse hair) and accessories -in Indonesia these accessories are somehow easy to get yet not in my country, it took me long to get the horse hair. The costume was made here, based on performances' photos. In Ecuador there is not a mask dance culture; only few dances in certain localities and specific festivities use masks. Most of them are decorative. Therefore, I asked Iroel Mutaqin to make an Andean mask providing him certain specifications and having as a model an old photo of an ancient mask. Thence, both masks were made in Indonesia and finished in Ecuador.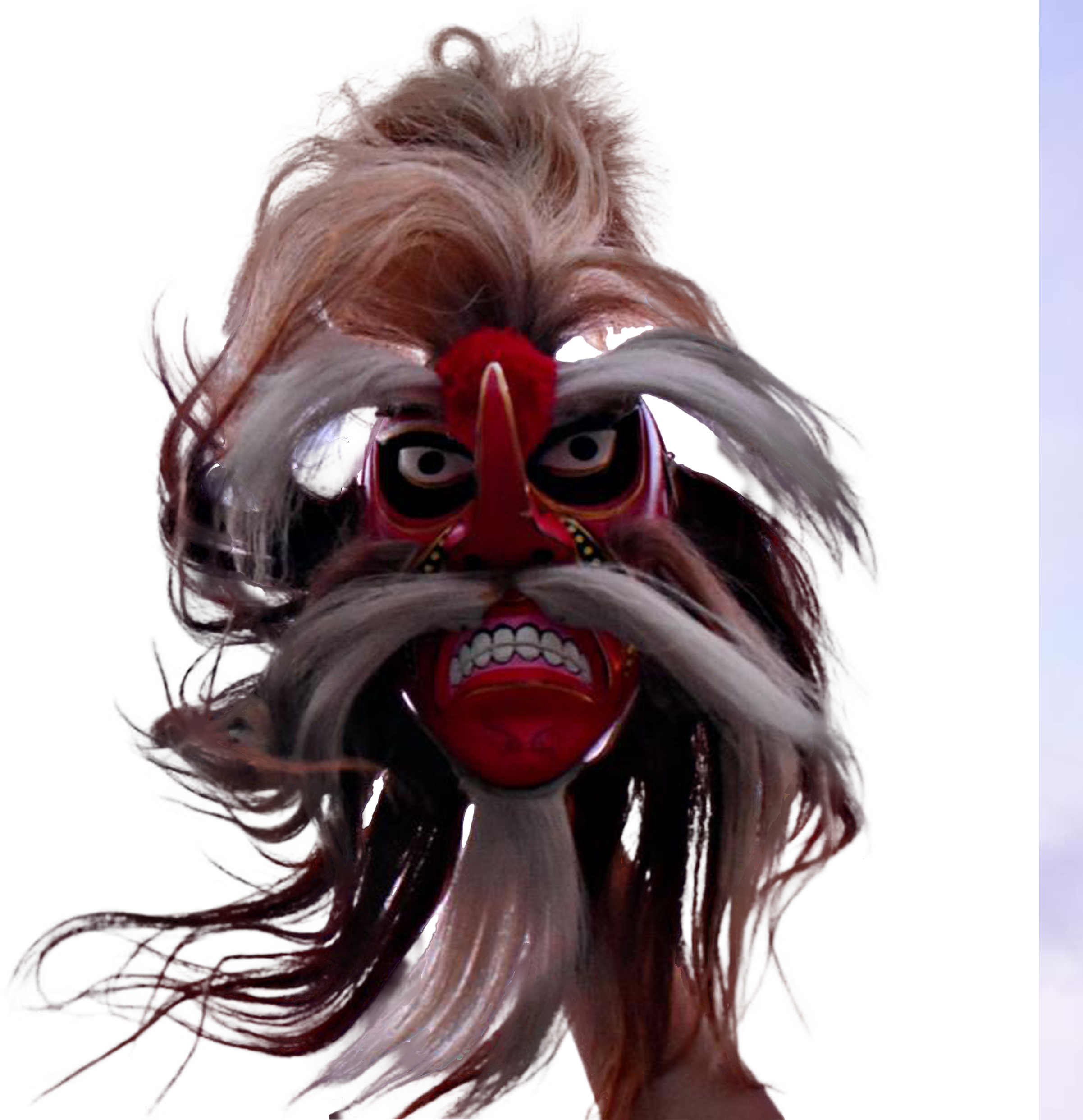 Merging mythologies, creating a dance story
In Indonesia I got immersed as much as I could in the performances and stories of Bujang Ganong, which was part of the Reog Ponorogo's saga, and interpreting it as a fierce, agile, powerful but also funny character who use to entertain the audience. On the
other hand, for long I have been studying and researching about Andean stories and myths. Particularly one grabbed my attention: "Rites and traditions of Huarochirí", which contains Andean culture's ancient myths. In these myths a Huaca is defined as a sacred being, even a lake, rock, deity or mountain guardian. The last one was my choice to depict an Andean character: the Huaca Cuniraya, a mythological deity.
Straightaway, I wrote a story to justify the encounter on stage of these two far-away-from- each-other characters. The fable related that:
"As Indonesia and Ecuador are placed oppositely in the globe, Bujang Ganong one day, as curious as he was to discover new lands, started to dig a hole in Indonesia to cross the earth. After months of digging, he reached the other side of the globe, to an unfamiliar and strange mountainous land (the Ecuadorian Andes). What he did not know yet, was that that land was ruled by a powerful deity, the Huaca Cuniraya. When the last one found out that a stranger had entered his lands, he faced him in a fierce battle".
The dance itself therefore, is the encounter and the ferocious battle of these two characters.
Exploring dance styles and techniques
During five months I trained the Bujang Ganong's dance style and technique I had previously observed and learned in Indonesia and adapted a choreography with them. Immediately, I taught the steps and choreography to an Ecuadorian dancer who was going to act out Bujang Ganong. For the Andean character, later performed by me, I made a personal exploration using my close relation and experience with the Andeans mountains. In my body lies the reminiscences of my journey for years through the mountains and Andean countries (Ecuador, Bolivia, Perú and Colombia). It took me around four months to design the choreography and merge the dance styles:
The Bujang Ganong's character has a typical East Jawa's dance style: specific hand position; percussive movements in consonance with the drum's beats; acrobatic, agile and jumping. He possesses a ferocious personality. Red is the predominant color of his mask and costume. To highlight these features, the mask's eyes are rounded and bulging, the nose long and pointed, red face and a big amount of hair as a lion's mane.
For the Huaca Cuniraya – mountain deity/guardian -, I chose movements typical of the Andean dances, with the gravity center and feet related with the earth, as he was a mountain himself. He carries a rihui – a long cord with five stones at its end which is waving about when fighting-; a horse/cow tail which symbolizes his status of power; and seeds of corn in his pockets to be spread around to fertilize the earth. He uses an Andean costume (poncho and pants). The mask depicts an Andean warrior with wooden color and details of gold leaf.